We left rainy Cornwall on Monday morning at 6:00 AM UK time. Started by picking up William's crew from the quay, as we had brought his big dinghy back to a location further upstream of the Fowey river. Then we sailed down to Ouessant (Ushant) in company, with the plan to go straight to Sauzon on Belle Île, south west of Quiberon.
We waited until Monday because we were weatherbound (NL: verwaaid) as another low passed over the British isles, it turned out into a real summer storm in the Netherlands a day later. So we stayed in Fowey for a week, first waiting for our friends aboard Aegle (and got better at how to pronounce this: e-ie-lee (NL) / a-eel-a (EN) is what we currently aim for…) then waiting for a weather window. There are worse places to stay longer!
On Sunday we accompanied Arnold on the first bit of his train trip back home. He finally got home after midnight after being picked up by Ella in Hoorn, in her first week of having her driving license! So nice to see your children grow and blossom!
Anyway, on Monday the weather prediction was really nice, with NW 15 kn at first slightly backing to W 10-15 later. Perfect. We sailed out of the lee of Cornwall, and then raised our Code 0.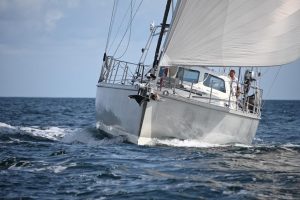 Aegle couldn't let this challenge pass, so they hoisted their gennaker.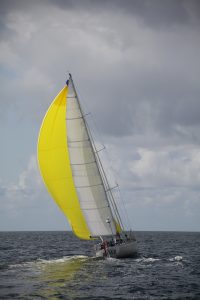 This looked very nice and resulted in them overtaking us, but then a small rain cloud made the wind go every so slightly more and booom! All ripped apart!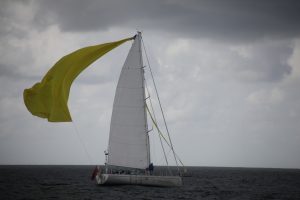 As the wind increased to 18 kn we furled our Code 0 as well (which wasn't simple either, I had to do it twice before it rolled in nicely) and continued with our trusty jib on the Hoyt boom.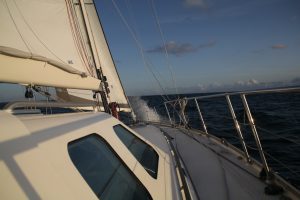 During the day the sailing was near perfect in terms of wind strength, although the waves were a little confused and had a slight effect on Marion, who was a bit queasy. It was just getting dark as we reached Île d'Ouessant. Due to the immense tides we rounded its outside and had a number of bumpy waves, but after we were able to bear away to the Raz du Sein the waves got smaller and more even, and we were not bumping into them anymore. Luckily the Raz, which has a terrible reputation for bumpy rides, was totally benign, even though we had to buck a 2.5 kn current against us.
We saw very small dolphins almost all the way, and they seemed to like us as some of them stayed around for hours.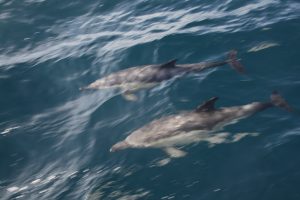 The rest of the way the wind backed as predicted, and we had to slow down at the end so that we could go straight into the drying harbour of Sauzon. At the tip of Belle Île the lighthouse of Les Poulains was waiting for us in the sun…
Maybe Ellis & Dick remember us carrying a big picture by Philippe Plisson back from the Hiswa, many years ago? It didn't look like that at all and we now appreciate the size of those waves even more!

It was very busy in the harbour and at first the harbourmaster, who didn't speak English, unlike the one Arnold and I encountered here two years ago, only gave us two mooring balls with the one on the rear immediately starting to strip our fresh anti-fouling from one of the rudders. Some good old fashioned Dutch pushiness and we were soon at four balls like two years ago, and the world was fine.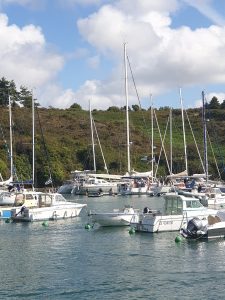 Alex and William came over from their outside anchorage, and were served a small lunch of Dutch cheese and Brouwdok beer. Later that night we said farewell to them with a shoreside dinner, all very french, with lots of delicious seafood, although we won't have the Bulots again, they are as the waitress predicted a little slimy and chewy.