At anchor in Ria de Camariñas
This morning we were still in bed when the phone started ringing, okay, let's get up and answer… House painter, whether Monday morning will be OK! Sure, go ahead. We're not there but the kids are!
Anyway, it was soon clear that it would be an extremely hot and windless day in A Coruña, so we quickly came to the conclusion that after two nights in the marina we were up to motoring out to the next ria towards Portugal. Predictwind said 10 knots at most, more likely 3 to 5. Once out at sea, the winds were first all over the place, caused by the high headlands that we were passing closely. Then they changed: directly towards us, at 13 knots sometimes 18! All the **** way! Anyway, we made good progress and are now in a lovely anchorage in the south part of the Ria de Camariñas.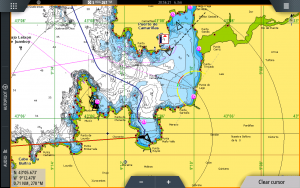 One German boat also read the new 8th edition of the RCC pilot,  or just got lucky, so we have to share the anchorage with one other boat. Earlier there were also many Spanish tourists on the beach here just a few hundred meters away, but they've now all gone to dinner. Temperature-wise it is a lot cooler than in A Coruña, but it doesn't cool off the same way as in Friesland!
By the way, A Coruña was absolutely bustling and full of people this time. Last time I was here (in 2015 with Hanneke and Gerard) the city was not inviting at all. I think it wasn't just the weather but also the number of people around. Just to give you an idea, here's a movie I shot whilst having dinner, on a Wednesday, at a quarter to ten in the evening! The restaurant was doing two services, we had the early one at 21:00 and the next one was at 23:00!